Slaves are made for Hurting - part 4 | Kiki Sweet
November 23, 2016
227 Images • 6:36 Min Video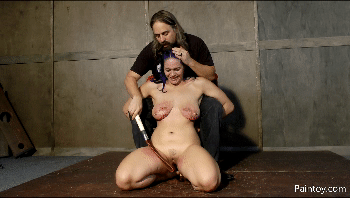 He's gonna bend her over and make her cry. He's gonna whip her back and her ass -until her tears fall down, down her face in a cascade of pretty, ruined black mascara. Then he's gonna twist her around and hold her so swee.. oh wait, wrong movie.

He's gonna twist her around and make her push her thighs out and then he's gonna do just what it's afraid of - he's gonna whip them. He's gonna whip her thighs and slowly, methodically, move up to her already tenderized tits and smash down on them with the heavy, evil toy he's using. You'd think he might be satisfied but not really...

He gets in closer now, more personal so that he can once again - whip the shit out of her thighs and tits while he holds her close, cock throbbing on her back. Put your dirty, slave fingers in your greedy cunt. Good girl, good girl, you finger that cunt while I beat your tits purple. Good girl.